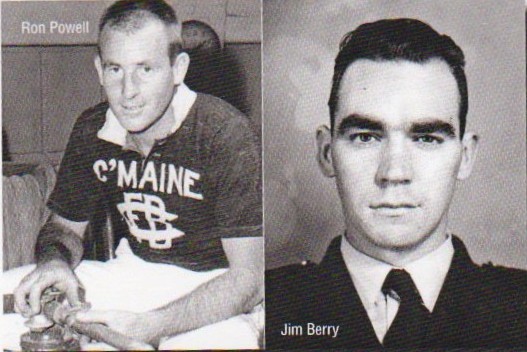 The Maryborough Castlemaine District Football Netball League's top honour was named the Berry Powell Medal in honour of Jim Berry and Ron Powell, who were both outstanding and very popular administrators with the Chewton Football Club. Tragically Jim and Ron died in a car accident on their way to a VCFL Appeal Hearing in Maryborough on April 18th 1973.
The League made the subsequent decision to recognise their contribution to the league and their club by naming the medal in their honour. Both men were regarded as outstanding administrators, who had charisma and a vision for their club and the league.  Jim and Ron were responsible for taking their struggling club to a position of power and laid the foundations for Chewton's premierships in 1975 and 1986.
Sadly the Chewton FC went into recess at the end of 1990.
| | | | |
| --- | --- | --- | --- |
|   | Year | Player | Club |
|   | 1946 | Clarrie Moschetti | Royal Park |
|   | 1947 | Ron Deledio | Dunolly |
|   | 1948 | Doug Beasy | Dunolly |
|   | 1949 | Jim Drysdale | P & N |
|   | 1950 | Ron Deledio | Dunolly |
|   | 1951 | Jim Oliver | Primrose |
|   | 1952 | Don Nicholls | Primrose |
|   | 1953 | Ray Noonan | Royal Park |
|   | 1954 | Jim Oliver | Primrose |
|   |   | Bill Ebery | Carisbrook |
|   |   | Max Watts | Dunolly |
|   |   | Ray Herbert | C/Creek |
|   | 1955 | Keith Fyffe | Carisbrook |
|   | 1956 | Pat Kirk | Primrose |
|   |   | Bill Ebery | Carisbrook |
|   | 1957 | Arthur Lacey | Dunolly |
|   | 1958 | Pat Kirk | Primrose |
|   | 1959 | Arthur Lacey | Dunolly |
|   | 1960 | Arthur Lacey | Dunolly |
|   | 1961 | Brian Richardson | Newstead |
|   | 1962 | Tom Noonan | Royal Park |
|   | 1963 | Tom Noonan | Royal Park |
|   | 1964 | Tom Noonan | Royal Park |
|   | 1965 | Robert Wanlace | Talbot |
|   | 1966 | Malcolm Stevens | Newstead |
|   | 1967 | Richard Raselli | Dunolly |
|   | 1968 | Charlie Wallace | Royal Park |
|   | 1969 | Colin Elliott | M/Rovers |
|   | 1970 | Ray Allan | Royal Park |
|   |   | Peter Cole | C/Creek |
|   | 1971 | Ray Allan | Royal Park |
|   | 1972 | Robert Droney | C/Creek |
|   | 1973 | Reg Jones | Chewton |
|   | 1974 | Wayne Deledio | Dunolly |
|   |   | David Zimmer | M/Rovers |
|   | 1975 | Laurie Smith | Talbot |
|   | 1976 | Colin Elliott | M/Rovers |
|   | 1977 | Neil Robertson | Dunolly |
|   | 1978 | David Zimmer | M/Rovers |
|   | 1979 | David Zimmer | M/Rovers |
|   | 1980 | Paul Williams | Chewton |
|   | 1981 | Glen Roy | Maldon |
|   | 1982 | Don Culvenor | Newstead |
|   | 1983 | Ken Patton | Maldon |
|   | 1984 | Robert Cribbes | Royal Park |
|   | 1985 | Mauro Guareschi | M/Rovers |
|   | 1986 | Anthony O'Shea | M/Rovers |
|   | 1987 | Steve Denko | Chewton |
|   | 1988 | Keith Ennis | Trentham |
|   | 1989 | Keith Ennis | Trentham |
|   | 1990 | Peter Constable | Carisbrook |
|   | 1991 | Mauro Guareschi | M/Rovers |
|   | 1992 | Wayne Purtell | Trentham |
|   | 1993 | Jason Glanville | Royal Park |
|   | 1994 | Glenn Skipper | C/Creek |
|   | 1995 | Michael Pedretti | Newstead |
|   | 1996 | Peter Egan | Royal Park |
|   | 1997 | Michael Pedretti | Newstead |
|   | 1998 | Martin Mark | Carisbrook |
|   | 1999 | Peter Tardrew | Talbot |
|   | 2000 | Ryan Morgan | Carisbrook |
|   | 2001 | Michael Moore | Trentham |
|   | 2002 | Michael Pedretti | Newstead |
|   | 2003 | Ian Martin | Talbot |
|   | 2004 | Daniel Christmas | Newstead |
|   | 2005 | Nick Robinson | Avoca |
|   | 2006 | Josh Hutchinson | Harcourt |
|   | 2007 | Tony Bellenger | Avoca |
|   | 2008 | Ian Martin | Talbot |
|   | 2009 | James McNamee | Dunolly |
|   | 2010 | Matthew Peake | C/Creek |
|   | 2011 | Daniel Parkin | Navarre |
|   | 2012 | Paul Chaplin | Harcourt |
|   | 2013 | Matthew Bilton | Carisbrook |
|   | 2014 | Damon Aspland | Lexton |
|   | 2015 | Michael Dalrymple | Newstead |
|   |   | Hayden Kelly | Maldon |
|   |   | Matthew Smith | Talbot |
|   | 2016 | Josh Fowkes | Navarre |
|   | 2017 | Jackson Bowen | Carisbrook |
|   | 2018 | Matthew Bilton | Carisbrook |
|   | 2019 | Joel Cowan | Trentham |