TREVOR FIELD from the Avoca Football Netball Club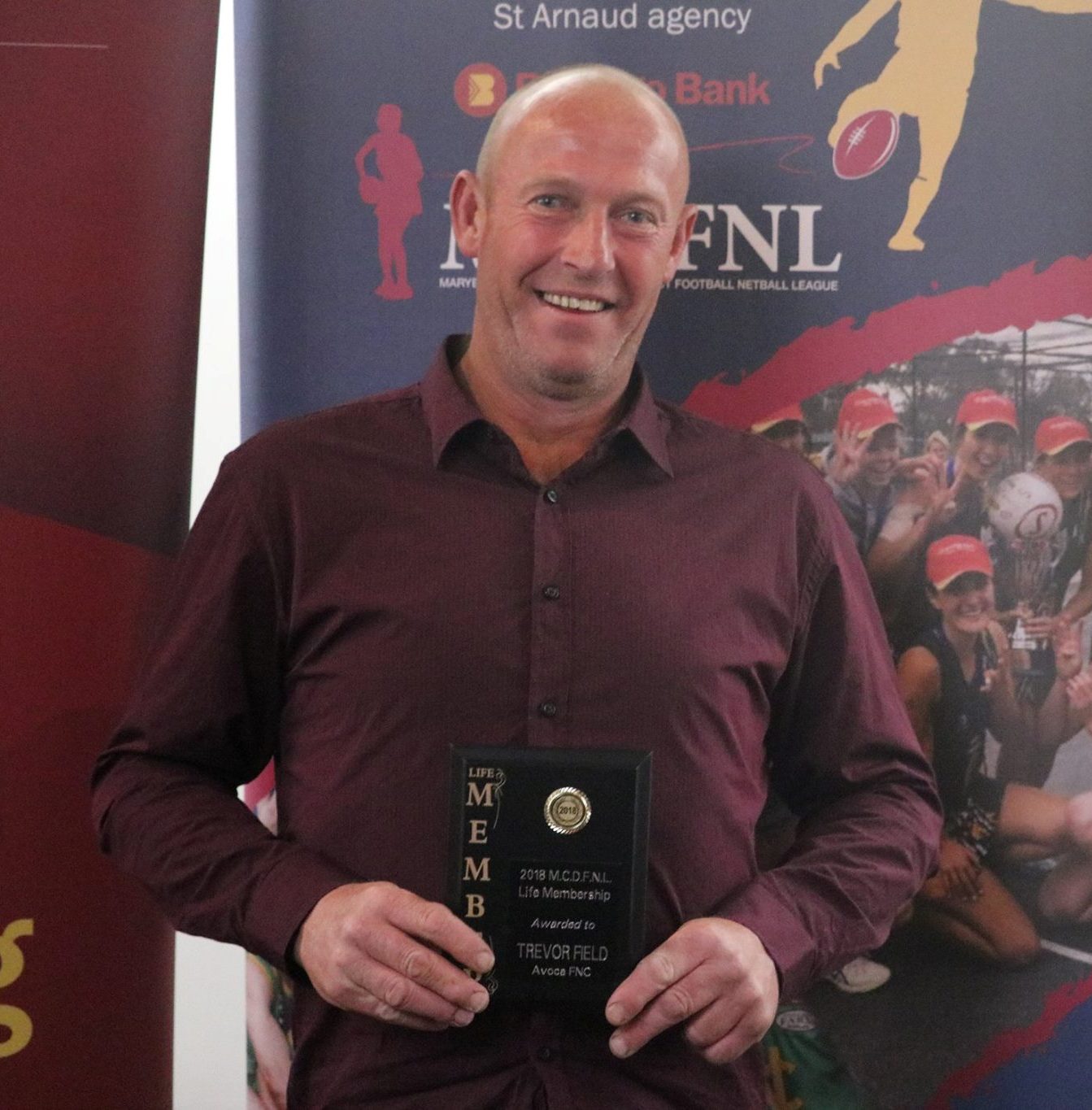 Trevor's contribution at the Avoca Football Netball Club is considered to be an amazing achievement as he has just played his 600th game for the Club.
He has played for 36 years since way back in 1982 and does not look like stopping anytime soon.
Trevor has accumulated many awards and premierships along the journey, including the Lexton Plains Senior League Best & Fairest in 2001 and the MCDFNL Reserves Best & Fairest in 2010.
While the majority of his games we played in the LFL and LPFL, he has played 213 games for Avoca in the MCDFNL since their inception in 2005.
Trevor is also a life member of the Avoca FNC and has been since 2003.
Trevor has also served the junior section at Avoca FNC as well; often umpiring and being the club runner or water carrier whilst he watched his son Nathan come up through the ranks.
Trevor has also coached at senior level and served on the club's committee.
Trevor is held in such high esteem at the Avoca FNC, that their Senior Football Best & Fairest award has been names the "Trevor Field Medal" to honour his contribution to the Club.
KELVIN STEVENS from the Campbells Creek Football Netball Club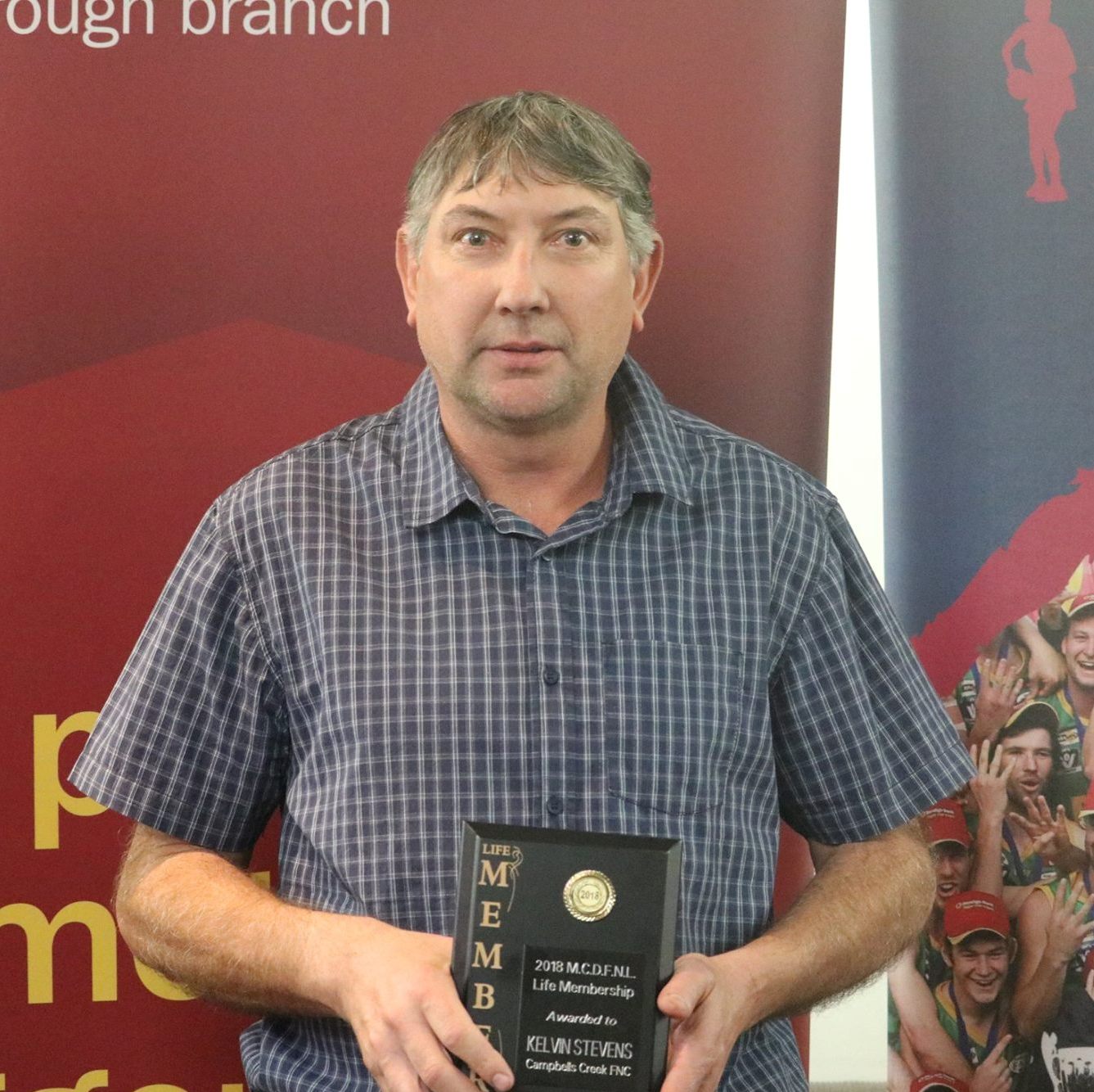 Kelvin Stevens has been an active member of the Campbells Creek Football Netball Club since he began playing in the U17s competition, back in 1987, over 30 years ago. He has filled most roles within the club, including player, coach, umpire, groundsman, parent and committee member, and is the current Junior Vice President, a role which he has fulfilled for the last four years.
Back in 2001, Kelvin achieved the milestone of 200 senior games.  During his playing time at Campbells Creek, Kelvin has achieved many awards, including:
U17s B & F winner; 1987
Senior B & F winner; 1988
Represented MCDFL u21s Interleague: 1991
Blue Ribbon trophy; 2002
Countless B & F runners up for seniors and reserves
Reserves B & F winner; 2017
While these accolades have been great achievements in Kelvin's football career, the real highlight for him, has been his involvement in junior development.
At the end of 2014, Kelvin was approached by members of the executive committee, to see if he would be interested in getting an U17s team up and going again, after not been able to field one that season. Kelvin set about ringing every kid and family he knew, who would be the right age for that age group. After a lot of hard work, he mustered up a team and coached them in their first year back, in 2015.
Having such an involvement in a sports club, takes a huge amount of dedication and commitment, not to mention hours of personal time. Kelvin is a firm believer that you get out what you put in and he has been rewarded tenfold by seeing the joy on a youngster's face as they put a Campbells Creek jumper on; and wear it with as much pride as he has for the last 30 plus years
Life Members Honour Roll
Troy Adams
Steve Adamson
Daryl Best 
Max Bowen
Gary Chaplin
Leon Collicoat
Roger Davies
Peter Egan
Trevor Field
Brad Fraser
Michael Greenwood
Reiny Gunther
Dennis Hedger
Norm Jenkin
Barry Johanson
Wayne Lanfranchi
Keith Mason
Mark Murray
Barry Phillips
Wayne Quinton
Brian (Mark) Richardson
Jock Sellers
Kelli Stevens
John Tracey
Jim Trudgeon
Brendan White
Life Memberships Awarded for Netball
Marie Bagley
Stacey Blair
Bernie Buntsma
Sherriden Byrne
Suzie Rinaldi
Dianne Simpson
Sandra Westbrook
Deb Worland
Deceased Life Members
Gary Barras
Vin Cowell
Harold Gaulton
Noel Gaulton
Joe Graco
Max  Martin
Harold Mason
Brian Melbourne
John Willis